The Permanent Representative of Yakutia in the Far Eastern Federal District Kim Borisov today, January 18, met with the General Director of the Khabarovsk Regional Museum named after N.I. Grodekov Ivan Kryukov, the press service of the permanent mission reports.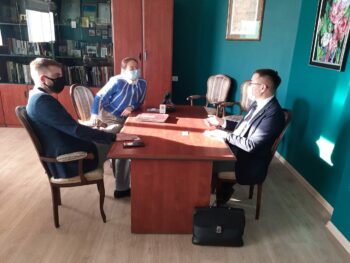 The meeting was also attended by Deputy Permanent Representative of Yakutia for the Far Eastern Federal District Vadim Nikolaev and an employee of the ethnography sector of the Grodekovsky Museum Victoria Malakshanova.
The parties discussed the issue of organizing an exhibition of the Yakutsk State United Museum of the History and Culture of the Peoples of the North. Eat. Yaroslavsky in October of this year within the walls of the Khabarovsk Regional Museum named after N.I. Grodekov as part of the events of the Days of Yakutia in the Far East, dedicated to the 100th anniversary of the formation of the Yakut ASSR.
Also at the meeting, Victoria Malakshanova presented the Yakuts catalog about the collection of ethnographic objects of the late 19th and early 20th centuries, which are kept in the funds of the Grodekovsky Museum. Currently, the collection includes 149 storage units, which allow us to characterize the economic activities and household life of the Yakut group, engaged in reindeer herding and leading a nomadic lifestyle in the border area of the modern Republic of Sakha (Yakutia), Khabarovsk and Primorsky territories. According to Victoria Malakshanova, the collection is of interest to jewelers from Yakutia, who specially come to the museum to study the ancient craftsmanship of the Yakuts.
«This will not be the first joint project of the Permanent Mission of Yakutia in the Far Eastern Federal District with the Khabarovsk Regional Museum named after N.I. Grodekov. In 2017, the museum hosted a joint ethnographic exhibition of the Yakut Museum named after Yaroslavl and the Grodekovsky Museum "The World of Sakha", dedicated to the traditional culture of the Yakuts. The exhibition was held with great resonance and attracted many visitors. In 2018, within the framework of the "Ways of Great Achievements" project, together with the Grodekovsky Museum, an expedition was organized to the Tuguro-Chumikansky District of the Khabarovsk Territory», — said Vadim Nikolaev.